AISTech Detroit 2023
8. 5月 2023 – 11. 5月 2023
Our main business partner in the United States, Laser-View Technologies will be exhibiting our products at AISTech Detroit 2023 and our Head of Sales, Mr. Dirk Fokkens will also be attending this event together with Mr. Steven Lubeck, the owner/CEO of Laser-View Technologies.
AISTech is North America's largest annual iron and steel technology conference and exposition. It provides a global perspective on today's marketplace by featuring technologies from all over the world that help steelmakers to compete more effectively.
It's a place to connect with colleagues, customers and old industry friends. It's a place to develop relationships and create new opportunities. It's a networking catalyst where companies, large and small, generate the business that drives the steel economy.
Year after year, Steel's Premier Technology Event welcomes over 7,000 industry professionals from more than 40 countries: an audience representative of steel producers, suppliers, academia and students. No matter if you're new to the trade, just starting your career or industry vet — there's something for everyone at AISTech.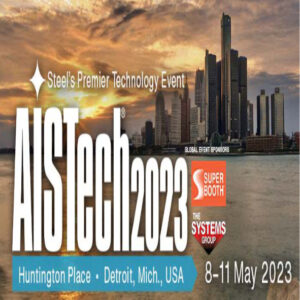 Exhibitors
Laser-View Technologies
Mr. Steven Lubeck (CEO)
Booth No: 1302
E-mail: Slubeck@laser-view.com
Tel: +1 610 497 8910